Backpacker Destinations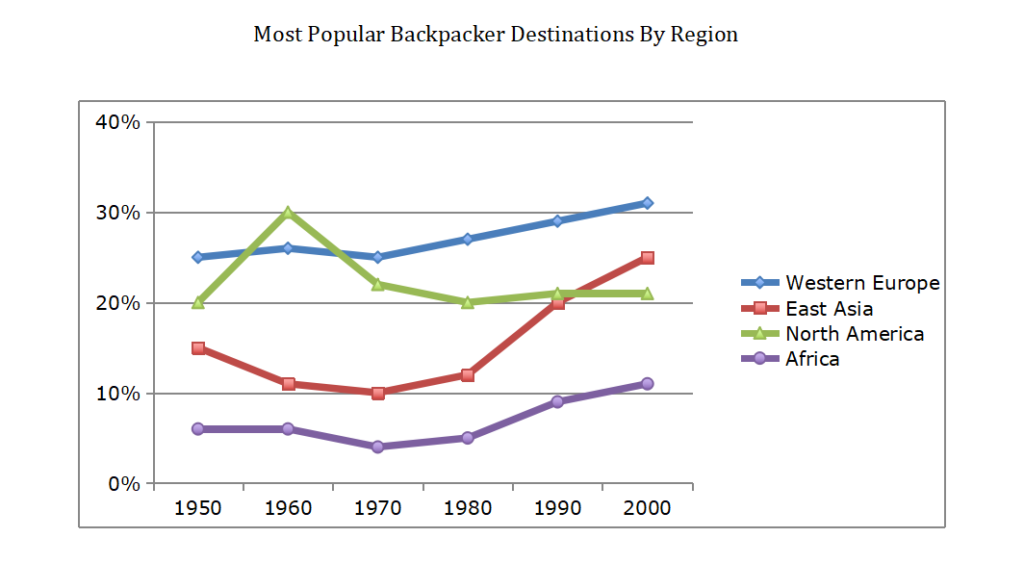 The diagram above shows four of the most popular destinations for backpackers from 1950 to 2000.
Summarize the information by selecting and reporting the main features, and make comparisons where relevant.
Write at least 150 words.
The line graph provided charts the popularity of four geographical regions (Western Europe, East Asia, North America, and Africa) with backpackers, tracked over the 50 year period of 1950 to 2000, with data plotted at ten year intervals.
Western Europe was, apart from a time around 1960, the most popular destination, with the percentage of total visitor numbers being steadily around the mid-20% mark until a gradual post-1970 climb saw it break 30% by 2000. The only time it failed to be the number one location – as noted, around 1960 – the fall in ranking was not due to a drop in visitor popularity, but from a dramatic spike in visitors to North America (20% in 1950; 30% in 1960; back to a little over 20% in 1970).
That said, with the exception of the peak in 1960, the popularity of North America remained consistently around 20%. That did not, however, maintain its position as the second most sought after region as a sharp rise in people visiting East Asia after 1980 (a doubling, from around 12% to approximately 25% by 2000) left North America in 3rd by the conclusion of the study. This was a dramatic change for the Asia area, as it had suffered a fall in popularity previous to this. Meanwhile, the fourth group, Africa, also saw an increase in popularity after 1980, reaching a high of a little over 10% in 2000, although it remained – as it always was during the sample period – the fourth and least popular of the given areas.